Buhari Gives Last Minute Order Before Leaving Aso Rock
President Muhammadu Buhari, Vice President Emi Osinbajo and the entire cabinet are expected to vacate the Aso residence by May 29, when Bola Tinub and his men will occupy the residence.
The incumbent president has reportedly ordered the vice president and all other cabinet members to declare their assets by May 29, ahead of a handover of state affairs. President Buhari made the announcement on Friday when he was handed an asset declaration by Professor Aysa Mohamed, chairman of the CCB Code of Conduct Office, the report said………………………..CONTINUE READING
Upon receipt of this form, the President affirms his determination to act constitutionally and declare assets before and after his presidency in order to strengthen best practices, raise ethical standards in public service, build integrity, and combat corruption. Announced. Therefore, he urged all his Cabinet members, including the Vice President, to do the same.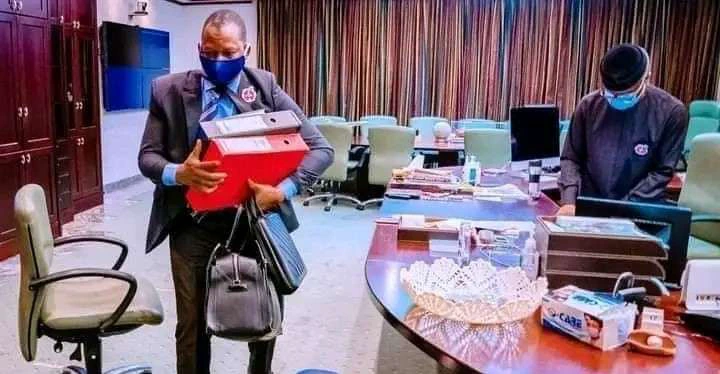 According to him, "I have signed the form, picked it up, confirmed receipt, and now I am going to ask the bank manager in Kaduna to show me the money in and out of my account. No one is excluded from declaring their own assets, and everyone from the Vice President down must follow this system. "
This comes hours after the vice president was photographed unpacking from his official residence for Nigeria's second-largest incumbent……………………CONTINUE READING
Meanwhile, it was previously reported that Vice President-elect Kassim Shettima took Professor Soyinka on an introductory tour of the Vice Presidential Building of the Presidential Palace.
After the tour, Shetima said: "At the request of his friend and contemporary the Vice President, I am here solely to share ideas on how to move the country forward.
"He showed me around his office as a courtesy, and I want to commend him and thank him for showing that courtesy. Yes, cross-pollination of ideas," he said.