Video: Bola Tinubu Mistakenly Says 'High Prices is Here' at Bayelsa APC Rally
All Progressives Congress (APC) presidential candidate, Asiwaju Bola Ahmed Tinubu on Thursday, December 1 mistakenly declared that 'high prices is here' while addressing the ruling party's supporters in Yenagoa, the Bayelsa state capital.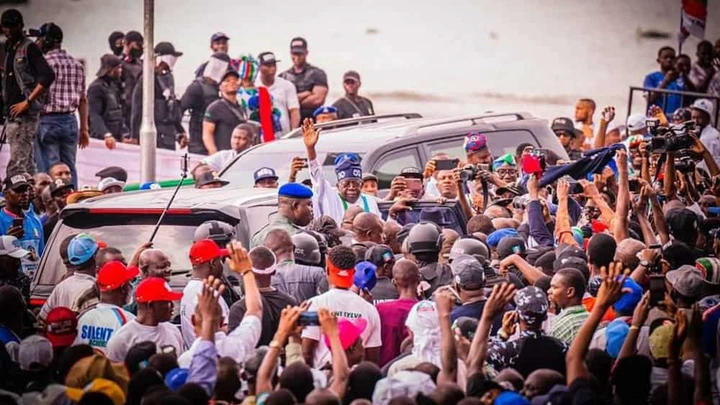 The former Lagos state governor said:
"I bring you hope, that happiness is here, that high prices is here.
Tinubu, however, immediately corrected himself by saying:
"Is gone."
Nigerians reactions
Some Nigerians on social media have been reacting to the trending video where Tinubu made the mistake.
The video has been circulating on the internet, especially on micro-blogging site, Twitter.
FS Yusuf wrote on the platform:
"I think Bola Tinubu is sincerely telling the Bayelsa masses that "High prices is here." So a vote for him is vote for outrageous increase in prices of goods and services."
Lucky S. Oghuvwu
"Nigerians, make una wise o. Tinubu said, "HAPPINESS IS HERE, HIGH PRICES IS HERE" what kind of contradiction is that? How can there be happiness where there is high prices? If una no wise na all of us go suffer am. After 8yrs of Buhari misrule, we need a breath of fresh air, abeg."
Blessing Emmanuel wrote
"In 2015 Buhari promised Nigerians from TOP to BOTTOM yet Nigerians voted for him.
"2022 Tinubu is promising Nigerians HIGH PRICES, I'm very sure that history will repeat itself again in 2023. Nigerians and suffering is like bread and butter. I won't be surprised if Tinubu wins."