Reactions As Mother Fixes Her Little Daughter's Nails And Eyelashes For Graduation Party – [Video]
A little girl has gone viral on social media after she rocked her artificial nails and lashes to school. The little girl is unidentified yet and her mother decided to beautify her but it seems she beautified her wrongly at her age and a lot of people criticized her action because the child is still little.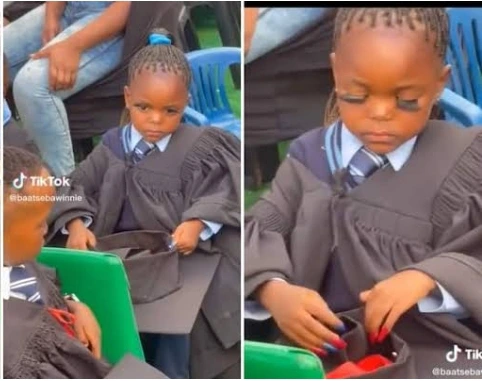 The little girl in the above photo isn't looking happy probably because she's feeling uncomfortable. The girl's nails is painted in different colours and the length of the nails is long and it shouldn't be so because she's under aged. If you look at her eyes, you will observe that she fixed an artificial eyelashes and it's improper because the child is still young, but the parent of the child sees it as fashion.
Her hairstyle is too tiny and it called 'Knotless braid'. Knotless braid isn't meant for kids because the texture of their hairs is still soft.
Watch the video clip and kindly share your reactions via the comment section below.