Just In: Tonye Cole reacts to court sack, reveals next move
The governorship candidate of the All Progressives Congress (APC) in Rivers State, Tonye Cole, has finally reacted to a High Court ruling disqualifying him from participating in the 2023 election.
Cole was disqualified on grounds of dual citizenship and failure by his party to comply with the Electoral.CONTINUE READING
The Federal High Court Port Harcourt also ruled that those whose names were submitted as having been elected from the primaries should not be recognised as validly-elected candidates for the APC in the state.
Reacting to the development, Cole said he is undeterred, and that "the APC will be on the ballot come 2023".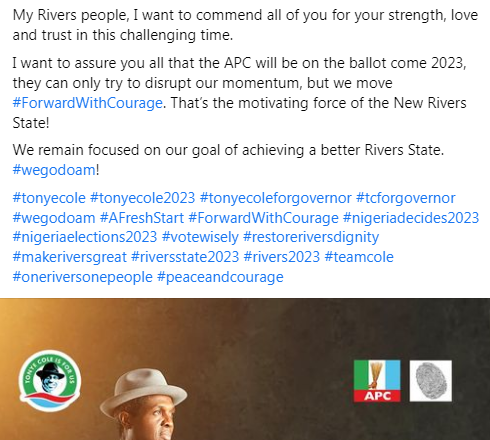 "My Rivers people, I want to commend all of you for your strength, love and trust in this challenging time.
"I want to assure you all that the APC will be on the ballot come 2023, they can only try to disrupt our momentum, but we move #ForwardWithCourage. That's the motivating force of the New Rivers State!
"We remain focused on our goal of achieving a better Rivers State," Cole wrote on his verified Facebook page.