Fuel attendant dies in a car accident while trying to chase a customer who bought fuel without paying
A fuel attendant has sadly lost his life in a tragic accident while trying to stop a customer from absconding.
According to a Twitter user identified as Alamin, the reckless driver rammed into another car while running from the petrol station where he bought N3000 fuel and refused to pay.
He shared the story on the microblogging platform with a video of the crash.
Alamin wrote;
"A driver bought fuel of 3k yesterday night and zoomed off at high speed without paying, he later lost control and rammed into other cars resulting to the death of someone sadly. Allah ya jikan shi"
A netizen confirmed only the attendant trying to stop the driver from running away died in the terrible accident.
"The seller climbed on top of the bonnet and tried to snatch the steer wheel away from the driver resulting to the accident. You can sight the man hanging out in the first few seconds of the video. PS: he lost his life while the driver survived." he wrote.
he wrote.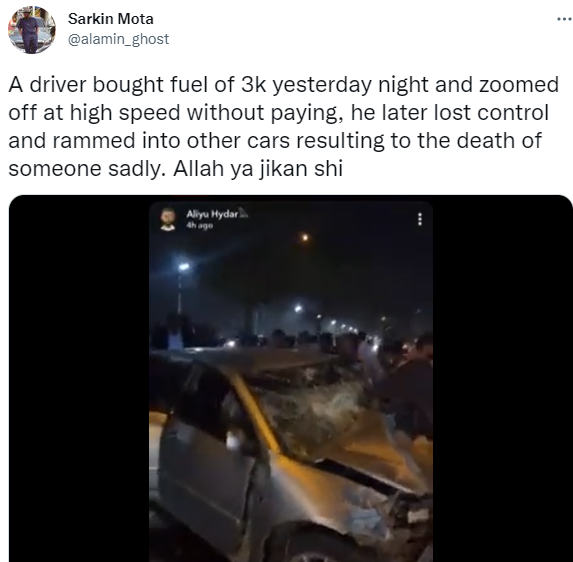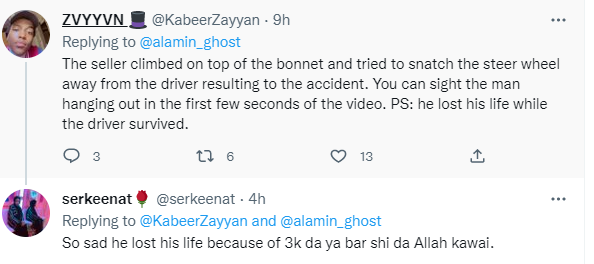 Watch the video here;
A driver bought fuel of 3k yesterday night and zoomed off at high speed without paying, he later lost control and rammed into other cars resulting to the death of someone sadly. Allah ya jikan shi pic.twitter.com/odhqToC5Tx

— Sarkin Mota (@alamin_ghost) November 30, 2022