FG announces new price for petrol
The Federal Government has finally removed subsidy on premium motor spirit (PMS) popularly known as Petrol as the Nigeria National Petroleum Company (NNPC) Limited on Wednesday morning officially changed its pump price to N537 per litre in Abuja.
In Lagos State, NNPC Limited now sells fuel at N488 per litre at its station on Old Ota Road, Abule-Egba.
In Port Harcourt, NNPC is selling for N511 per litre.
In Plateau State, the Pump price is now #537/ litre at NNPC stations…………………….CONTINUE READING
NNPC sources have confirmed the authenticity of this pricing template for petrol nationwide.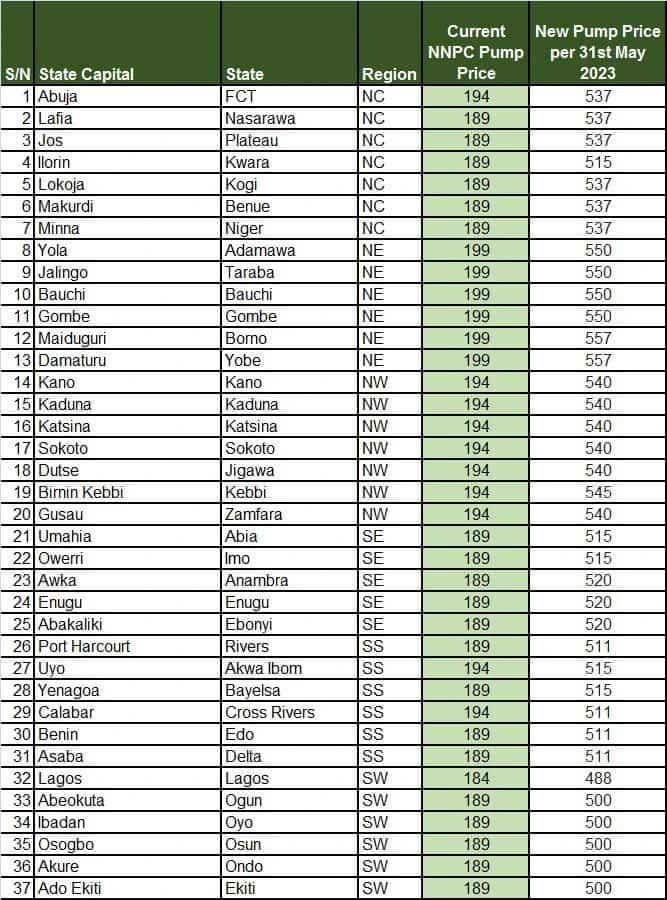 This change by the national oil company is providing clarity around prices after the removal of the controversial fuel subsidy which cost almost $10 billion annually.
NNPC is the sole supplier of petrol in Nigeria today and it is now expected that other marketers will take a queue from the NNPC prices and adjust their own pump price this morning.
Analysts say since NNPC has affected different pump prices for different cities, this may mean that not only has subsidy gone but also that the wasteful price equalization mechanism which ensured petrol had the same official price all over Nigeria was also gone.